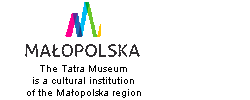 TO THE TATRAS I WILL RETURN ... FROM SPAIN TO ZAKOPANE. THE LIVES AND WORKS OF MARIAN AND JADWIGA MAURIZIO.
This exhibition is about the lives and works of Marian Maurizio Abramowicz (1905 - 1996) - climber, writer, poet and photographer, an agricultural engineer by profession and an émigré by fate – and his wife, the distinguished translator of Polish literature into Spanish, Jadwiga Maurizio (1910 -?). Their passions and achievements would undoubtedly be ripe material for a screenplay. The life stories of this extremely interesting, yet virtually unknown, couple are a reflection of the times in which they lived and the places they remained bound to. Marian was born in Lwów and brought up in Zakopane, a place that was dear to his heart, though by choice he was a Krakow resident. Most of his life was spent in Spain, which became his second homeland. The couple were true soulmates, and their loving relationship lasted for more than sixty years. Always full of energy, they loved the freedom and beauty of the culture and nature both in Poland and in Spain.


"CHILDHOOD AT THE FOOT OF THE TATRA MOUNTAINS" – TEMPORARY EXHIBITION
17th May – 2nd November
The Gallery of Art in Koziniec
(branch of the Tatra Museum)
Zakopane, Droga na Koziniec 8
This exhibition is an attempt to sketch a picture of childhood in the traditional culture of the rural Polish Tatras from the late nineteenth century to the first years after the Second World War. It is often an uneasy image of childhood, marked by poverty - but not devoid of warmth, joyful experiences and dreams. Regardless of the individual features and unique history, childhood determined the nature of the traditional family. The environment of this region influenced this, specifying the type of economic activities and the particularly difficult living conditions.


JÓZEF OPPENHEIM AND WANDA GENTILL-TIPPENHAUER. A ZAKOPANE LOVE STORY?
October 19, 2013 – March 31, 2014
The Gallery of 20th Century Art at Oksza villa
Zakopane, ul. Zamoyskiego 25
The exhibition will present two interesting personalities of the Zakopane interwar period. Józef Oppenheim, called "Opcio", was a well-known skier, mountaineer, head of the Tatra Mountain Rescue Service (TOPR) in the years 1914-1939, and a popular, much-liked Zakopane figure. Wanda was a redheaded painter born in Haiti. The exhibition explores the relationship between Wanda and Opcio. It features Oppenheim's mountain photographs, "Ruda" Wanda's paintings and their correspondence.

PICKING THE RIGHT PIPE: THE FASHION FOR PIPE-SMOKING IN THE PODHALE REGION
October 12 – December 31, 2013
The Museum of the Zakopane Style at Koliba villa
Zakopane, ul. Kościeliska 18
Smoking tobacco was very popular among Tatra Highlanders in the 19th and early 20th centuries. Many centres of fashioning metal-plated clay pipes existed in the Podhale region. These pipes were also sold in the neighbouring Spisz and Orava regions and in the villages of the nearby Gorce mountains. The aim of the exhibition is to evoke this craft, which once thrived in Podhale. The exhibition will showcase the various types of highlander pipes from the years 1880 - 1969 and a variety of ornaments, pipe pins, leather pouches for tobacco, tools for cutting snuff. Also a workshop for fashioning pipes from 1888 will be on display along with a set of moulds and tools. Archive photographs and quotes from 19th century texts in which a Tatra Highlander was almost always presented with an ever-present pipe will complement the exhibition.

JOURNEY OF DISCOVERY: AMONG THE IDEAS OF THE TATRA MOUNTAINS AND ZAKOPANE
May 19 – December 29, 2013
The Gallery of Art in Koziniec
Zakopane, Droga na Koziniec 8
open: Wednesday - Saturday 10:00 - 17:00,
Sunday 10:00 - 16:00
In this exhibition entitled "Journey of Discovery: Among the ideas of the Tatra Mountains and Zakopane", we invite you for a walk through space and time along the cultural path designed by Stanisław Witkiewicz in his book "Na przełęczy. Wrażenia i obrazy z Tatr" [ "On the pass. Impressions and images from the Tatra Mountains"]. This book, published in 1891 in Warsaw, is sometimes called the gospel of the Tatra Mountains, and has played a major role in the creation and popularisation of an important phenomenon in Polish culture – the 'discovery' of the Tatra Mountains and Zakopane.

ALPINE BEAUTIES. MAGAZINE COVERS 1880-1940
June 15 – October 13, 2013

The Gallery of 20th Century Art at Oksza villa,
Zakopane, ul. Zamoyskiego 25

The exhibition presents the evolution of the female costume, in its "mountain version", through a hundred covers of fashion and literary magazines from around the world (eg. Cosmopolitan, The Illustrated London News, Le Figaro, Collier's, La Vie Parisienne), from 1880 to 1949, when the pictorial illustration leaves the field to photography.

MOUNTAINS ON PHOTOCHROM PRINTS 1890-1910
June 15 – October 13, 2013
The Gallery of 20th Century Art at Oksza villa,
Zakopane, ul. Zamoyskiego 25

The exhibition presents the main alpine resort towns of Europe and elsewhere, highlighting the "visual conquest" of the world in which the Photoglob company brought about the mass production of photochrom prints in just two decades (1890-1910). Even before the true colour photographic process (Autochrome) was widely used at the industrial level, the Swiss company was able to identify the common "need for colour" in the market, developing the Photochrom process: ink-based images produced through "the direct photographic transfer of an original negative onto litho and chromographic printing plates" that look deceptively like colour photographs, and were sold just as true colour photographs at tourist sites reached by middle-class travelers thanks to the new infrastructure, media and transport which made it easier to travel the length and breadth of Europe and across the world's oceans.

BELLES IN ALPINE LANDSCAPES. ARTISTIC NUDES
June 15 – September 29, 2013
The Museum of the Zakopane Style at Koliba villa
Zakopane, ul. Kościeliska 18
This small exhibition presents the work of two photographers remembered for their outdoor nude studies: Georges Louis Arlaud (1869-1944), a photographer from Geneva, remembered for the series that he took in the South of France that were printed as photogravures in "Vingt Études de Nu en Plein Air" (Paris, Horos Editions, 1920) and Marcel Meys (1885-1972), a Parisian painter, known for his nude and autochromes as well, who took female figures inhabiting the natural landscape with their own nude body. Two examples of Pictorialism's emphasis on nature and the nude often found expression in the fusion of both, with the image of a nude female figure in an idyllic natural setting.

ANNA SCHUMACHER. PAINTINGS
July 27 – September 29, 2013

The Władysław Hasior Gallery
Zakopane, ul. Jagiellońska 18 b
Anna Schumacher is a painter and award-winning book illustrator who has participated at numerous exhibitions in Poland and abroad. An active participant in Zakopane's artistic life, she graduated from the Art History Department of the Jagiellonian University and the Academy of Fine Arts in Krakow. This exhibition features works from her private collection.

TRAINING THE FANTASY. MEMORIALS BY POLAND'S GREAT POST-WAR MASTER OF ART - WŁADYSŁAW HASIOR
April 20 – July 21, 2013
The Władysław Hasior Gallery
Zakopane, ul. Jagiellońska 18 b
Władysław Hasior is widely considered to be one of Poland's greatest Post-war artists. Best known for his installations and banners, this exhibition looks at his work with monuments and outdoor sculptures in Zakopane (where he established his studio), elsewhere in Poland and abroad. He broke common sculptural conventions, used surprising solutions for content and form. This exhibition presents his completed and uncompleted projects. With the use of extensive photographic and film documentation, preserved sketches combined with statements of the sculptor there is a lot of extremely interesting material for visitors to expand their knowledge about Hasior's artistic activity.

FROM LWÓW TO CHAMONIX. THE CENTENARY OF BIRTH OF TADEUSZ WOWKONOWICZ
March 13 – June 9, 2013
The Gallery of 20th Century Art at Oksza villa
Zakopane, ul. Zamoyskiego 25
Tadeusz Wowkonowicz was an outstanding ski racer of the 1940s whose life was determined by three towns: Lwów (today's Lviv in Ukraine), Zakopane and Chamonix. This exhibition, held on the centenary year of his birth, features items from his family's archives in Chamonix and includes personal items, letters, and photographs which document Polish skiing in the 1940s, and was prepared by Dr. Leon Rak and Zbigniew Sokalski.

ART ON GLASS: EWELINA PĘKSOWA'S GLASS PAINTINGS FROM THE TATRA MUSEUM'S COLLLECTION
Exhibition extended until June 2, 2013

The Museum of the Zakopane Style at Koliba villa
Zakopane, ul. Kościeliska 18
Ewelina Pęksowa is considered one of Poland's greatest living glass painters. She continues the centuries-old regional Podhale tradition of painting colourful religious and folk scenes. Glass paintings have become an essential component of every proud Highlander's home and is a unique form of art to this region. Among the works on display are eleven of the artist's glass paintings purchased by the Tatra Museum in 2012 thanks to a grant from the Minister of Culture and National Heritage.

ALL ANIMALS SMALL AND UNKNOWN. INSECT PHOTOGRAPHS BY JAROSŁAW WENTA
September 26, 2012 – January 13, 2013

The Władysław Hasior Gallery
Zakopane, ul. Jagiellońska 18 b

Jarosław Wenta is a photographer and author of the book Butterflies of the Tatra National Park, published in 2010. He has assembled a rich archive of photographs of nature, particularly photographs of insects. He documents, among other things, the phases of insect development. Photographs for the exhibition have been chosen with the aim of introducing the viewer to the rich microworld of animals, those which are lesser known though fascinating nonetheless.

ANNA LISCAR. PAINTED ON GLASS AND PAPER
July 11 – September 30, 2012

The Museum of the Zakopane Style at Koliba villa
Zakopane, ul. Kościeliska 18
The exhibition showcases works by Anna Liscar from Zakopane – glass paintings featuring religious scenes and scenes from brigands' life as well as landscapes using various techniques (gouache, tempera, watercolour, oil). All works come from years 1985-2012. The landscapes have been publicly displayed for the first time.

LET'S TALK ABOUT WOMEN. SCHULZ, WITKACY, GOMBROWICZ AND OTHERS
May 12 – September 30, 2012

Gallery of Art in Koziniec
Zakopane, ul. Koziniec 8

Let's talk about women is an exhibition prepared in cooperation with the Museum of Literature in Warsaw. The idea of the exhibition is to show artworks of several eminent twentieth and twenty-first-century Polish artists who dealt with the subject of women and femininity. Łukasz Kossowski, the author of the exhibition, presents these issues in a light and humorous way, with Zakopane's artistic milieu as the setting. The exhibition shows works of artists and writers such as Bruno Schulz, Stanisław Ignacy Witkiewicz, Witold Gombrowicz, Kornel Makuszyński, Zbysław Marek Maciejewski, Władysław Rząb, Grzegorz Moryciński, Jan Lebenstein, Jacek Sroka, Władysław Hasior and includes more than 100 works of art and handicraft items, photographs and quotes from texts.

What's on
(1-15)
(16-30)
(31-45)
(46-57)
»»
Ostatni