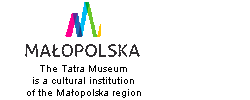 « TATRZANSKA ATLANTYDA », REMEMBERING THE AESTHETIC OF LOST PLACES (AVAILABLE IN ENGLISH)
"Tatrzańska Atlantyda", or "Tatra Atlantis" by Piotr Mazik is a photo album presenting images from the collection of the Tatra Museum which has co-published this work. Far from being conventional, this publication, which is definitely surprising in its content and is highly aesthetic, invites the viewer to engage in contemplation and reflection.

This bilingual (Polish and English) album is an opportunity to discover through photographs significant places that do not exist any more and recall life in the Tatras as it used to be.

We invite mountain enthusiasts, those passionate about the Podhale region, photography or history, to discover the unique collection of previously unpublished photographs in this book.


---
Print ::
---