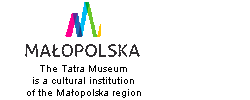 MOUNTAIN FILM CINEMA IN THE TATRA MUSEUM – A SHOWING OF THE MOVIE "K2 DOTKNĄĆ NIEBA" / "K2 TOUCHING THE SKY"
24 June 2016 (Friday), 6pm
The Władysław Hasior Gallery
a branch of the Tatra Museum
Zakopane, ul. Jagiellońska 18b
We would like to invite you to another meeting from the MOUNTAIN FILM CINEMA IN THE TATRA MUSEUM. This time there will be a showing of the movie "K2 Touching the Sky" (72'), a 2015 film by Eliza Kubarska. The movie has won many international prizes, including Grand Prix at the
Trento Film Festival
in 2016.
The year 1987 on the eight-thousander K2 will be remembered as the "black summer". 13 alpinists have lost their lives. Nearly 30 years later a director and mountain climber Eliza Kubarska, along with her cast Chris, Lindsay, Łukasz and Hania, went to the Karakorum mountain range. The participants were trying to understand the magnetic power of K2, the motivation of their own parents for which they have had to pay the ultimate price. Eliza, a mountain buff herself, poses a question if the alpinists, risking their lives, should be having children.

The Mountain Film Cinema in the Tatra Museum partner is the Meetings with Mountain Film Festival (www.spotkania.zakopane.pl).


---
Print ::
---