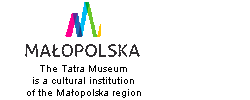 POLISH PRESIDENCY 2011. THE TATRA MUSEUM IN ZAKOPANE ON YOUR ROUTE
If you are planning this summer to participate in meetings organized within the Polish Presidency 2011, you are invited to take part in a special project of the Małopolska Region called MAŁOPOLSKA CULTURE. It includes free entry to some Małopolska museums, art galleries, concert halls and other cultural institutions, and to the Tatra Museum among others.
THE TATRA MUSEUM
IN ZAKOPANE

Museum in Zakopane and its 10 branches – everything about the Tatra Mountains, Podtatrze and Zakopane. Historical buildings, permanent and temporary exhibitions. Highlanders' culture, works of artists associated with Zakopane, history of Podhale and natural environment of the Tatra Mountains.


Permanent exhibitions:

In the Museum's main building,

In the Museum of the Zakopane Style in the Koliba villa,

In the Museum of the Zakopane Style – Inspirations,

In the Władysław Hasior Gallery,

In the Kornel Makuszyński Museum,

In the Museum of the Chochołów Uprising in Chochołów,

In the Korkosz Croft in Czarna Góra,

In the Sołtys Croft in Jurgów,

In the Łopuszna Manor.

Temporary exhibitions:


---
Print ::
---