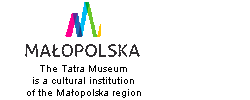 What's on
Fine Arts at the Foot of the Polish Tatra Mountains
Teresa Jabłońska's book Fine Arts at the Foot of the Polish Tatra Mountains is the story about how the beauty and extraordinary nature of the Tatras attracted scholars, travellers, artists and art lovers from the early nineteenth century.


« TATRZANSKA ATLANTYDA », REMEMBERING THE AESTHETIC OF LOST PLACES (AVAILABLE IN ENGLISH)
"Tatrzańska Atlantyda", or "Tatra Atlantis" by Piotr Mazik is a photo album presenting images from the collection of the Tatra Museum which has co-published this work. Far from being conventional, this publication, which is definitely surprising in its content and is highly aesthetic, invites the viewer to engage in contemplation and reflection.


« TRAIL OF ZAKOPANE STYLE », A GUIDE IN ENGLISH TO DISCOVER THE ARCHITECTURAL CHARACTERISTICS OF ZAKOPANE
On July 16th 2014, the Museum of the Tatras celebrated an important day in its development with the opening of a course dedicated to the discovery of the specific architectural style of Zakopane under the name of « Szlak Stylu Zakopiańskiego ». Through the proposed route, it is possible to discover more than 40 houses and monuments built following stylistic requirements as they were defined by Witkiewicz.


THE EXCEPTIONAL « PORTRET OF KRYSTYNA AND LUDWIK FISHER » IS NOW IN WILLA OKSZA
This unique art piece by Witkiewicz can now be seen at Willa Oksza. The artist is one of the most famous Polish artist of the 20th C. He founded his own firm of portret-making and he remains famous for this. He defined rules for five different categories of portraits (which he named after the letters A to E) : each one had its own characteristics and its price. The children depicted here belong the the A category : designed in a hyperrealistic style on a background including surrealistic features.


ARTISTS AND ART IN ZAKOPANE
The Gallery of 20th Century Art at Oksza villa,
the newest branch of the Tatra Museum
Zakopane, ul. Zamoyskiego 25
The exhibition presents the output of the artistic community and artists who were temporarily connected with Zakopane at a time when the village was Poland's leading centre of artistic excellence. All of them drew inspiration from the Tatra mountains and the Tatra Highlander culture. The display is presented in the interiors of Oksza villa, designed by Stanisław Witkiewicz in 1894 in the Zakopane Style, which was restored by the Tatra Museum in 2010.

Archives
(1-5)